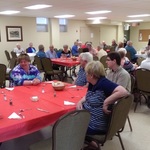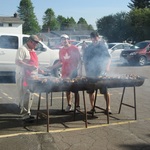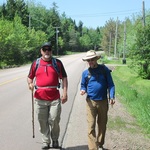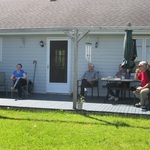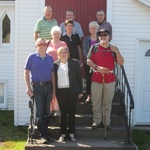 It was very hot today! I am told at one point the mercury climbed to 33C. Our walk was about 20 km from Salisbury to Riverview; surprisingly I did not find it too arduous. We arrived at the Shannex complex at about 2.45pm and were greeted warmly by some of the residents. Then it was on to St. John the Baptist for an evening barbeque and service. There was a grand turn out of over 60 people. Tomorrow it is supposed to rain, so I am sure I shall look back on the heat of today with a degree of fondness.
It was also a great pleasure for me to be joined at the supper by four people from Stone Church in Saint John. One of them worshipped here, in Riverview, during the 1960s. She enjoyed renewing some old acquaintances.
Their presence made me think about the universal nature of the Church. In this season of Pentecost, we are reminded that we are the Body of Christ, connected by the Holy Spirit. The person from Stone Church is linked through time to this part of the body. There are some people whom she knows who are still here, but others have gone on ahead. Yet they and we are still joined.
This led me to another thought. The Church is not only linked over time, but also over distance. Today we know that in various places in the world Christians are being both persecuted and killed because they profess the name of Jesus as Lord. Still, others face famine and war. We are in the same body as they, yet we do not often think about them and their plight.
There may be little we can do other than pray or we could find that God calls us to minister in particular ways to our brothers and sisters who are in distress. Too easily I forget that we are joined together by the one Spirit. I am quite happy in my comfortable Christian life while my family in other parts of the world faces things I cannot imagine.
We are one body because we were all Baptized into one Lord, Jesus Christ.
David
Comments for this post are now off.