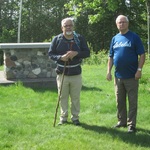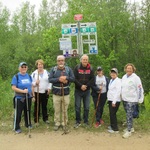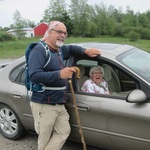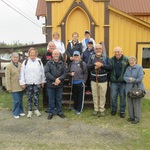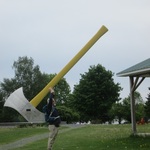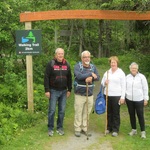 Things are beginning to wind down, Trevor and I are starting to look forward to tomorrow and our last walk, even though we are likely to get wet. Thus far we have travelled about 174 km on foot. Thankfully neither of us is the worse for wear; hopefully, the last lap to King's Landing will not cause any trouble. We are now in St. Clement's church in Prince William/Dumfries. Any who know it will be aware that it is very well appointed, a beautiful facility alongside the St. John River.
Today began at the Shrine of St. Francis of Assisi near Canterbury. It was a great walk but as we walked with Charles Bell, a man with significant local knowledge, a sense of sadness overwhelmed me. When passing along the road Charles pointed out where farmsteads used to be. Now they are merely clearings, perhaps with an old wellhead visible. We could also see flat areas of grass with new growth trees in them, these were former cow pastures. Then there was the derelict machinery and the great barns which had once been at the heart of productive farms, but today are slowly decaying. In addition to all this were the sites of the old lumber mills.
What I was observing was less than a skeleton of a former way of life in our province. It was more like bone fragments of an economic model which collapsed from the 1970s onwards for many and varied reasons. Its demise has left much of our countryside denuded of people, employment and even hope.
I have found myself asking what is the Church's role in our present situation? There are at least two of the Marks of Mission which imply that we should be involved: challenging the unjust structures of society and caring for the creation. Is there a role for the Church as an entrepreneurial catalyst in our rural communities? What might that even look like? Can we furnish micro-loans to people with ideas? I genuinely do not know, but there must be something we can do.
From Canterbury went moved on to Temperance Vale for midday prayers. We had a good crowd in attendance. We walked to Nackawic and paid a visit to the Town Hall. The parish here is saddened due to the recent death of one of their beloved older members, so we are grateful that they are still able to receive us.
This brings me back full circle to my first blog of this year. As you may recall I dedicated this year's pilgrimage to the memory of Marshall Curtis, who was killed in an accident three weeks ago. The event was a great shock to me and to many. I have prayed for Carson and Liz (Marshall's parents) daily as I have walked. I have also thought about Marshall and meaning. I have no great revelation which will ease anyone's pain; what I know is God is to be trusted and God is love.
David
Comments for this post are now off.