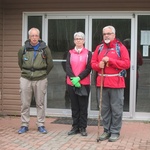 Well, Pilgrimage 2018 in the Archdeaconry of Woodstock is over, apart from my writing this blog. I am sitting at home in my office for the first time in nearly two weeks. The grass on my lawn has grown very long whilst I have been away and will need to be cut tomorrow. I am asking myself what are the main things I have learnt in these last few days?
Before I go there I want to mention that this morning we walked from the Church of St. Clement to the church at King's Landing. We were able to say our final Midday Prayers in that old building, which is now a witness to our Christian heritage for all who visit the historical settlement. I must say thank you to those who made this possible at such short notice. In addition, thank you to everyone who has been involved in the Pilgrimage this year in any way. I greatly appreciate your ministry to Trevor and me.
During the last two weeks, I have met many wonderful people who are committed to the extension of a Christian Anglican witness in the Woodstock area. I am grateful for the ministry which is being done there by so many. I know that it is very difficult and some feel that they are hanging on by their fingernails. What I can say is that God knows and as a result of my walk I have a greater understanding of the situation on the ground. I have few answers, but I will continue to think, pray and consult.
In addition to the position of Anglicanism in the region, I have been greatly impacted by the economic effect of change over the last 50 years. I am not going to reiterate what I said last night. I may be ignorant on this issue, but I do not hear much from the Provincial Government about rural regeneration. Again, as far as I am aware none of the churches have been asked to contribute to any ongoing discussions. In some cases, church members are the holders of the memory for parts of New Brunswick.
God does not leave us comfortless, but how do we comfort our brothers and sisters as they face major obstacles in their communities? Jesus' love is for all and he seeks to bring wholeness to the broken. The Spirit empowers us for the work of ministry, which has to reach beyond maintenance to mission.
Next year the hope is to walk in the Archdeaconries of Kingston and the Kennebecasis and Saint John. Once again thank you for your support in this ministry.
David
Comments for this post are now off.