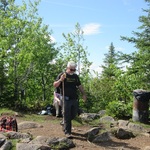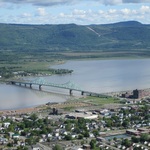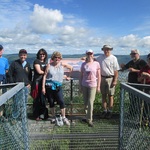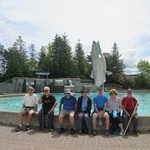 We conquered Sugarloaf Mountain today. I have to say that for me it was hard work. Although it is only a walk of 0.9 km, it is very steep and rugged. I was reminded of a song we used to sing in Sunday School, "When the road is rough and steep fix your eyes upon Jesus". There were a couple of times climbing that I thought I might be doing that rather more quickly than anticipated. Once at the top it was well worth the climb, a beautiful vista opened up in front of us. It must look amazing in the Fall.

Throughout this pilgrimage, the hospitality has been fantastic. This evening after the great climb we had a scallop and ham supper. About 40 people attended and we were able to join together for Evening Prayer afterwards. It has been tremendous to worship with so many different people over the last 2 weeks. There has been a real sense of the Holy Spirit working among his people. I am very encouraged about our church, but also aware of the trials we face.
Tonight will be the final time for a while that I will sleep in a church or hall. Strangely it has been one of the most rewarding aspects of this year's pilgrimage. I can honestly say I have slept well in every place. It has been a discipline to sort out sleeping space in some places and generally have to be packed and ready to go to the next venue.
The road we have travelled this year has amounted to about 170 km, somewhat less than last year's 210. Having said that there was nothing like Sugarloaf in our Charlotte County walk last year. Today's journey reminded me that in our Christian walk we always face paths of relative ease and also steep sections which require all that we can give in order to get over them.
There were times on the mountain today when I thought I would not make it. Oddly the worst of these was coming down. As I left the summit I lost my footing on the steep, worn rocks there. Suddenly I was falling forward towards jagged stones. I struggled to have my walking stick get a grip. At the third attempt, when I was sure I was going to come crashing down, it locked against a rock and I steadied myself.
During the next few years as a Diocese, we will continue to face the rough and the smooth. There will be times when we think we are not going to make it and there will be times of joy as we look back to where we have come from. We can rely upon Jesus if we are willing to risk the mountain. In the light of that, I finish where I began today remembering a line of a hymn from childhood, this time, from school, "My faith it is an oaken staff, oh let me on it lean".
David
Comments for this post are now off.