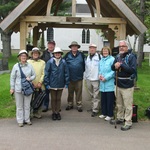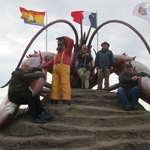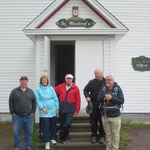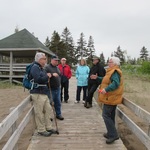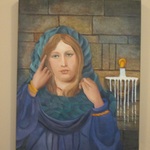 It is 9:21pm, so I am late in posting today's blog, I apologize. It has been a busy day. We had a great walk this morning. There was a visit to St. Martin's seniors complex to meet some of the people who live there and to offer prayers. In addition, we walked past a house where a Christian couple help women who are involved with the justice system. These ventures have Christian roots and they serve as a reminder of the ways in which the people of God serve others in the community.
At lunchtime, we had prayers and food at St Winifred's in Pointe-du-Chêne. In the Church, there is a fine portrait of the Saint by Bill Brydges. It was great to be able to spend some time this afternoon with Trudy, his widow and to have her join us at worship this evening. Bill was a founding member of our Diocesan Choir School, which celebrates its 60th anniversary later this summer.
Winifred is a Saint of the Celtic Church; she lived and died in Wales. It is easy for us to become very misty-eyed about our Celtic forebears, but it is important to remember that they had a very holistic sense of God's presence in our lives, communities and the world.
We are only beginning to rediscover and build upon the lessons we can learn from the Celtic Church. One of the things we know is that their approach to mission was to see people come to walk with Jesus and from there have a positive effect in the region where they ministered. They were not solely about people coming to faith to solely look forward to peace in heaven, though that was important. They also wanted to see communities flourish, in the areas of relationships and economic security.
In world history, the Celts lived in turbulent times after the end of the Roman Empire, in what historians used to call the Dark Ages. We are reminded by writers such as Thomas Cahill in How the Irish Saved Civilization, of their pivotal role in saving much of what we have from ancient writers and ideas. Perhaps in our time, where many see increasing turbulence in the world, the Church again has a central role to play in preserving what is good in our day.
David
Comments for this post are now off.