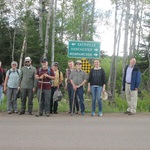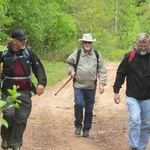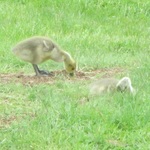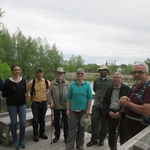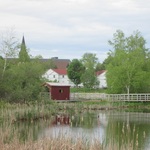 Today we visited three churches: St. Paul, Sackville, St. Anne, Westcock and Trinity, Dorchester. A good number of us walked between all three, then some of us went out for a ham and bean supper, the perfect end to a to a great day.
We gathered for Evening Prayer in Trinity and it was very special, being the Eve of Pentecost. This festival is often something of the "poor relation" to the great celebrations of Easter and Christmas, yet it is the day when we remember the empowerment of the people of God by the Holy Spirit.
Tomorrow in the Church of England many churches will hold a "birthday party" for the Church. I am told by Dean Geoffrey Hall that it is the intention of the folks at our Cathedral to have their service out on the Green. I hope the weather will be kind to them.
The power of the Spirit is important to all the Gospel writers, but St. Luke, who also wrote the Book of Acts, points to a special link between Jesus and the Church. In his Gospel Luke, points to the fact that Jesus' ministry is empowered by the Holy Spirit. This is no more so than in chapter 4 when Jesus returned to his home Synagogue in Nazareth. Having been given the scroll he deliberately turned to the prophet Isaiah and began with "The Spirit of the Lord is upon me and he has anointed me to proclaim Good News to the poor…..".
In Acts 1: 8 the disciples are told to wait until the Holy Spirit comes upon them and then in Acts 2 the Spirit falls on them and enables them to do the mission which Jesus has called the Church to undertake. This continues to work itself out during the remainder of the book.
It has been suggested that the Book of Acts has not ended, rather it continues as the Church today seeks to fulfil the purposes of God. We need to know the power of the Spirit guiding and directing us as we seek to do the work to which we have been called.
We should not minimize the importance of Pentecost. It is my prayer that all of us will be touched in new ways by the Holy Spirit as we celebrate tomorrow.
David
Comments for this post are now off.