This event has already occurred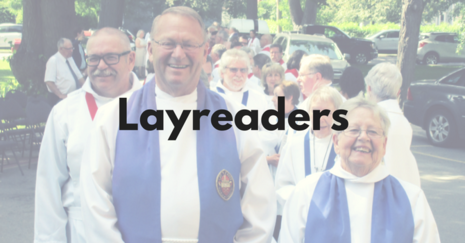 Save to your Calendar
Information brochure | Registration (closes August 30th)
Overview
Layreaders in the Diocese of Fredericton are called to an important and vital part of the ministry of the church. They actively participate in liturgical and pastoral work and the mission of God in the world. The Layreader Gathering at the Villa Madonna Retreat House is an opportunity to reflect on that mission, to rest, and to grow together as followers of Jesus.
Villa Madonna
Since 1931, over half a million people have discovered the oasis just 10 minutes east of Saint John. They have come to the Villa alone or in groups to be nourished and renewed in body, mind, and spirit. Secluded from the world that goes on outside its gates, the grounds have a timeless beauty and provide a serene setting that people return to again and again.
Speakers
The Rt. Rev. David Edwards
The Rev. Canon Bruce McKenna
Fees
Single occupancy: $100.00 - includes one night single accommodation and all meals
Double occupancy: $175.00 - includes one night accommodation for 2 people (double or queen) and all meals
Day commuter: $50.00 - includes meals
Payment
$25 due upon registration. Do not send cash by mail. Make cheque payable to the Diocesan Synod of Fredericton indicating the Layreader Gathering and mail to: Diocese of Fredericton, 115 Church St. Fredericton, NB E3B 4C8
Balance of registration due upon arrival (cheque or cash)
Schedule
Friday
3:00 - 5:00 Registration
5:00 - 6:00 Dinner
6:00 - 7:00 Settle in rooms / walk the grounds
7:00 - 7:45 Worship - Evening Prayer
7:45 - 8:15 Bishop David: Layreaders are important to the Diocese of Fredericton!
This session will provide an overview of the layreader role in the Diocese and the Bishop's vision for that role over the next 10 years. Also for discussion is how the layreader training program fits that vision.
8:15 - 8:30 Q & A
8:30 - 10:00 Mix, mingle & music
10:00 Compline
Saturday
7:00 - 8:00 Quiet time / Guided Walk
8:00 - 9:00 Breakfast
9:00 - 9:30 Worship - Eucharist
9:30 - 10:30 Bishop David: Witnessing - What It Is and What It Is Not
What is God doing in your life? This session will focus on viewing your faith journey through different lenses, recognizing the places that God is at work and learning how to tell your unique story.
10:30 - 11:00 Break
11:00 - 12:00 Canon Bruce McKenna: Growing as Followers of Jesus through Prayer: the Examen
Through this exercise, one attempts to discover where and in what ways God has been present or revealed in one's daily experiences.
12:00 - 1:00 Lunch/free time
1:00 - 2:00 Canon Bruce McKenna: Growing as Followers of Jesus through Scripture: Lectio Divina
Together we will explore a method of prayer in which a person listens with one's heart to God's word in the scriptures.
2:00 - 2:15 Break
2:15 - 3:00 Bishop David: Layreaders as Disciples
This session will provide an opportunity to look at the role of layreaders as disciples of the future.
3:00 - 3:30 Evaluation & Closing
Other Information
What to bring: bible, BAS, journal, pen/pencil, comfort items, walking shoes, water bottle, thermal cup with lid
Medallions, ribbons and scarves will be available for sale.
Gathering Guidelines:
Recognize that every individual attending is on a unique spiritual journey.
Be aware that each person has a desire to grow into a deeper relationship with God.
Recognize that for each person to intentionally deepen their relationship with the Divine, both individual work and corporate support from others is required.
Be respectful and hold confidences gently in your heart.
Contact: 506-647-8170 or [email protected] for more information
Planning Team: Cleo Cyr (Chair), the Rev. David Peer, the Rev. Keith Osborne, Harold McInnis, Linda Ellis, Paul Mills
With grateful over site from: Bishop David Edwards, Canon Bruce McKenna, Cheryl Jacobs, Shawn Branch