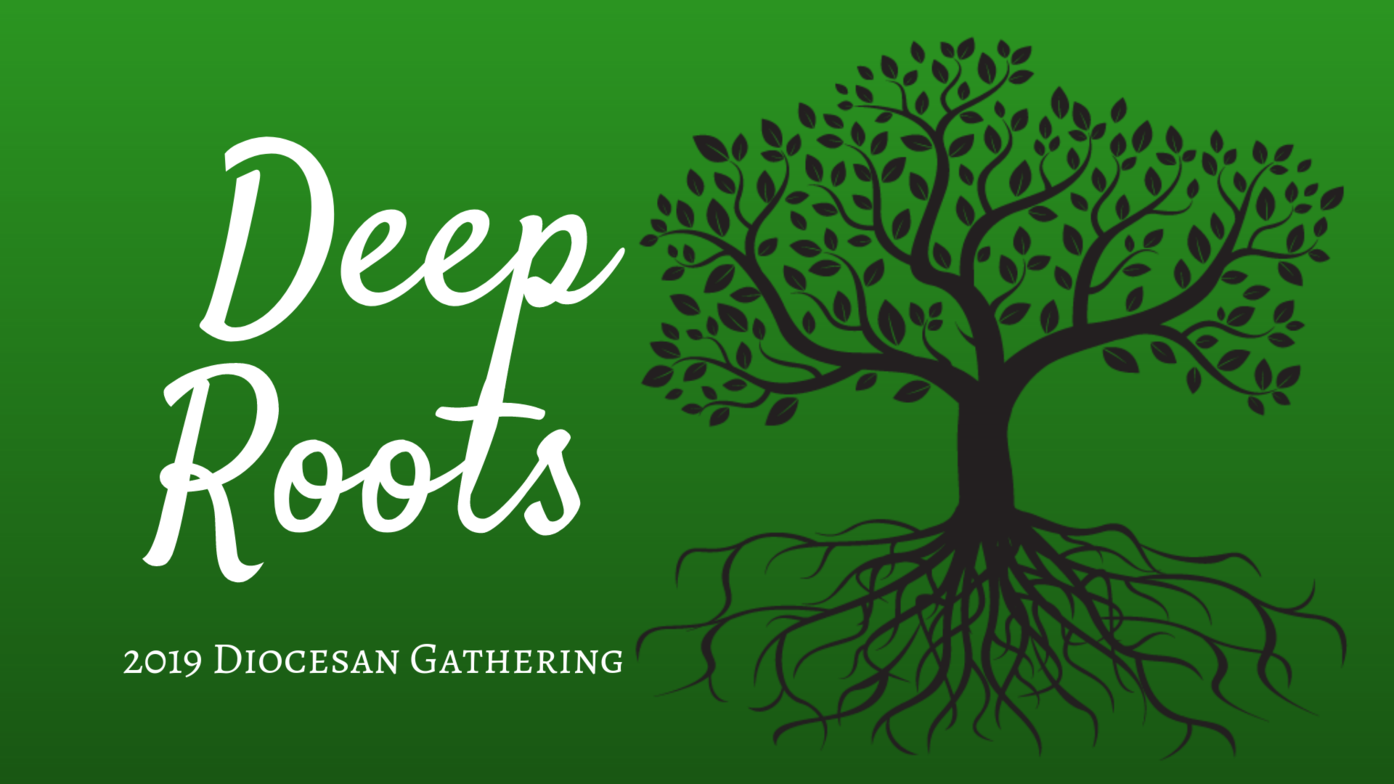 The church landscape is changing dramatically, as are the communities in which we live. All that has been taken into account in the planning of the Deep Roots diocesan gathering. It's taking place at the University of New Brunswick's Fredericton campus June 14-15, and you are invited.

"This is a great opportunity for the diocese to gather — to be equipped for where the church is at and where our communities are moving," said organizer and parish development officer Shawn Branch.

"I'd love to see the people of the diocese empowered and strengthened to play their part in sharing Jesus in their communities and living out their faith day to day."

The planning has been going on since last fall, with the gathering intended to take the place of the various council team workshops held throughout the year, putting everything into one event.

The gathering's focus is described in two words: discipleship and missions. That focus is directly related to Bishop David Edwards' three charges to diocesan synod.

Michael Frost, a name well-known to Anglicans in the diocese, is the keynote speaker. The resident of Australia wrote the book Surprise the World, which was a focus of the 2017 Diocesan Synod and last year's Easter season book study.

Michael will also speak at Christ Church Cathedral on June 16 at the 10 a.m. and 11:45 a.m. services. There is one last chance to see him in Moncton on Tuesday, June 18 for an ecumenical church leaders gathering. Click this link for information on the Moncton event: https://nb.anglican.ca/events/a-day-with-michael-frost/2019-06-18

Two other speakers are on the agenda: The Revs. Lisa Vaughn and Renée Embree. They will speak on church leadership today and reaching the next generation, respectively.

Other aspects of the gathering include tool box sessions — short informational workshops on such things as Godly Play, stewardship, personal worship with the BCP, and social enterprise.

Information booths will include Camp Medley, Central Saint John Community Ministry, PWRDF, Farraline Place, Anglican Fellowship of Prayer, layreaders and Lucy's Sewing Group.

To make the event as user-friendly as possible, childcare will be provided during the speakers' presentations.

Shawn and an ad hoc committee have been working on making the gathering relevant for the challenges facing the church today.

"I'm most looking forward to people getting together — building relationships — and it's not about the business of the church, but about being the church," he said.

Clergy, layreaders and anyone with an interest in discipleship, missional behaviour and growth as a Christian is encouraged to attend.

But in order to do that, you must register. Early bird registration, at $75, ends June 1. After that, it's $85, which covers the gathering and meals. Accommodations are extra, but rooms and suites are available at UNB starting at $36 a night for a single room, up to $115 for a three-bedroom suite.

If university dorms aren't your thing, the Amsterdam Inn has rooms available for the conference at $104 and $114 a night. You must mention the Anglican Diocese of Fredericton for these hotel rates. As well, you must book your own accommodations.

To register, find information on accommodations and other information, click here: https://nb.anglican.ca/resources/deep-roots Registration ends June 10.
Gathering schedule:
Friday, June 14
1:00 p.m. Registration begins
2:00 - 4:30 p.m. Ministry presentations
5:15 p.m. Supper
6:30 p.m. Worship, welcome from Bishop David
7:30 p.m. Keynote 1: Michael Frost
8:45 p.m. Evening worship
9:00 p.m. Kitchen party
Saturday, June 15
7:45 a.m. Breakfast
8:30 a.m. Morning Prayer
9:00 a.m. Keynote 2: Michael Frost
10:15 Break
10:30 a.m. Deep Dive with Renée Embree - Next Generation Ministry
11:00 a.m. Deep Dive with Lisa Vaughn - Leadership
11:30 a.m. Toolbox sessions
12:30 p.m. Lunch
1:30 p.m. Keynote 3: Michael Frost
2:30 p.m. Geographic round tables
3:30 p.m. Eucharist and Gathering wrap-up