This event has already occurred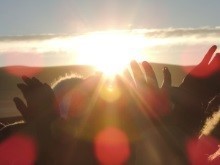 Save to your Calendar
OPEN MINDS. OPEN HEARTS. OPEN HANDS.
VCM 2019 is an inspiring three-day conference for lay and clergy leaders that takes place in Truro, NS, from Thursday, Nov. 21 to Saturday, Nov. 23.
Explore innovative approaches to missional ministry and church vitality. The keynote speaker is The Rev. Jeff Potter, Priest and Lead Pastor at St. Stephen's, Maple, ON. Jeff holds an Honours Master of Divinity from Wycliffe College, and a Juris Doctor from Osgoode Hall Law School. Jeff practiced law at a large Bay Street firm prior to responding to God's call to full-time ordained ministry in the Anglican Church.
Jeff is passionate about sharing the Gospel, and works to build up well-equipped disciples. Prior to being called to plant something new at St. Stephen's, Jeff served at the parishes of Holy Trinity Thornhill and the Church of the Transfiguration, Toronto. He currently serves as the Co-Chair of Fresh Expressions Canada. With a deep interest and broad experience in missional theology both academically and as a practitioner, Jeff is a sought-after conference speaker and workshop leader. He is frequently invited to speak on topics including church renewal and revitalization, and missiology.
At Vital Church Maritimes conference lay people and clergy explore varieties of missional approaches to ministry including Fresh Expressions of church and best practices. In other words, learn about how to connect with new people and form faith communities in new places, by new ways. Break-out sessions in 2019 feature lay and clergy presenters from a variety of backgrounds. Topics include worship music, mission opportunities in the changing Canadian culture, discipleship, faith and art, Café Church, and more!
Reserve your seat at VCM 2019 and sign up now! Conference registration fees cover the costs of all refreshments, meals (including breakfasts) and materials. (Accommodation is extra.) Early Bird rate is $150 until midnight Oct. 21. Special rates for students, youth and one-day attendance.
Early bird discounts at the Holiday Inn are available until Oct. 21 for a limited number of guest rooms (mention 'Anglican Diocese of NS & PEI' to receive the special rate).
Visit www.nspeidiocese.ca for details. Final registration is Nov. 8. Got questions? Call 902-420-0717 or e-mail lvaughn@nspeidiocese.ca. See also Vital Church Maritimes 2019 Facebook page. Anyone may attend VCM 2019, including church leaders from other denominations.